5-let House in a short presentation
Separately to emphasize Dunakeszi "green"energy project: December 2007 I. rate of 75 flats handed over development in the system which is unique in mechanical engineering: soil nourished by heat, ceiling heating system, geothermal heated and cooled homes included. In December 2009 we presented the project II. the rate at which comprises 77 flats. The projects are interesting to probe land instead of building the foundation piles used for the extraction of geothermal energy, the so-called energy piles. Hungary thus provides a unique geothermal heat pump only 152 pieces in total floor area of ​​9000 m2 flat energy for heating and cooling. Condominium management of both our company and proud to say that 1 m2 flat average annual cost of heating and cooling is less than the 800 HUF. Each apartments building with energy rating A +!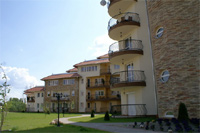 http://www.5-let.hu/ Dunakeszi, located directly next to Budapest. The city center is 25 minutes away, by train, by bus, by car. Dunakeszi within the agglomeration is the best transport. We get to the city bike path along the Danube, the whole to Szob village.
The following several years of actual consumption data show that the geothermal heating and cooling system operation is very cheap there occupiers

Example: 2 x 42 m2 occupied year-round, 22 ° C during the heating season, cooling season, 24 ° C internal temperature of flats monthly average cost of

South-facing 2,234 HUF/ month. NW facing 2352 HUF/ month

Example: 2 x 55 m2 occupied year-round, 22 ° C during the heating season (one home in the winter of 2009-2010 due to the birth of a baby's internal temperature was 24 ° C!), cooling-season internal temperature of 24 ° C monthly average cost of housing

NE facing £ 3,515 per month. SW facing 4176 HUF/ month.


2011th Annual cost of conducting joint
5-let-House II Condo. (2120th Dunakeszi, 6./A-B Barátság Road).
Upkeep what is including the following items:
Garbage collection, Representation fee, Audit, Common electricity, Cleaning, Form, Elevator Maintenance, Bank charges, Joint Water, Gardening, Check, Maintenance, Troubleshooting, Other costs, Maintenance of heat centers and surveillance, Insurance for condominium, Reserve, Parking
Example: 55 m2 apartment
Total fixed cost: HUF 7,714
m2 according to the variable cost: HUF 2,234
Parking: HUF 250
Payable in monthly common costs: HUF 10,198